Oxylent Sport is a convenient daily drink that provides you vitamins, minerals, antioxidants, amino acids and electrolytes. Available in convenient 15-Day individual pack boxes, or in a 30-Day Canister.
SUGGESTED USE: One packet per day (or 1 scoop from canister.)
The amino acid Citrulline Malate & B vitamins enhance energy & blood flow†
Creatine MagnaPower® boosts ATP in muscles†
Electrolytes & minerals promote hydration†
Sustamine® combines Glutamine & Alanine to sustain energy†
SOD (superoxide dismutase) inhibits muscle fatigue & breakdown†
Powerful antioxidant enzyme SOD
Superfruit AuroraBlue® blueberry
Vitamins C and D
Why Buy Direct? In a word, freshness! Walk into your local vitamin shop, or shopping warehouse, and take a close look at their stock. Chances are you will find some products that may be close to expiration; and, may appear as if they've been sitting on the shelf for awhile! Here at Omega-Direct freshness is priority one! To ensure that you receive only the freshest stock we have taken the following steps:
All orders ship via ultra fast, USPS Priority 2-3 Day Air minimizing the chance of heat related damage. Compare this to UPS Ground which can take up to 7 days.
By selling hundreds of bottles a week new inventory arrives on a daily basis.
All stock is kept in a climate controlled warehouse at a constant 77 degrees.
We use a just-in-time inventory system which ensures that all our stock is no more than two weeks old.
Vitalah takes great care during processing and handling to ensure you receive a product of unparalleled quality and freshness. Why compromise this by ordering older product from a retailer with unknown or questionable handling and storage procedures?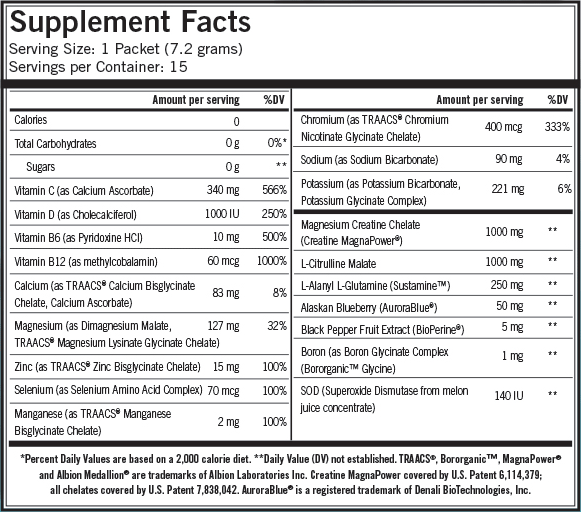 Benefits:
Promotes sustained energy & stamina during exertion†
Inhibits fatigue & muscle breakdown†
Reduces time & energy needed for recovery†
Enhances muscle strength & muscle repair†
Replenishes glycogen/energy stores & electrolytes†
Supports metabolism & weight management†
Features:
Amino Acids
Antioxidants
Vitamins
Minerals
Electrolytes
Science-backed ingredients of superior quality
Well-known sports nutrients with cutting edge ingredients you can't find anywhere else!
Great-tasting Blueberry Burst flavor
No sugar or calories! Sweetened with pure stevia
No gluten, dairy, soy, caffeine, anything artificial
Non-GMO
Recommended for People who:
Are athletes, sports enthusiasts, or live an active lifestyle
Want a natural boost for energy, stamina, and recovery
Are looking to get the most out of their workouts
Want to exercise harder and longer without fatigue
Are looking to reduce recovery time
Want an all-in-one solution for pre-, during, and post-workout support
Oxylent® is an award-winning, 5-in-1 daily multivitamin—all in one refreshing drink. Instead of swallowing pills or tablets, add a packet of Oxylent to water and enjoy a sparkling drink that delivers vitamins, minerals, electrolytes, amino acids, and antioxidants with easy absorption. The unique formula includes 1000 mg vitamin C, 1000 IU vitamin D3, 100% RDI or more of several B vitamins, the amino acids L-Arginine and Lysine, a full panel of superior-quality Albion® minerals including zinc, selenium, iodine, calcium, and magnesium, and the unique ingredient S.O.D. (or superoxide dismutase), which is a powerful antioxidant enzyme that eliminates billions of free radicals. Prenatal Oxylent® is recommended by the American Pregnancy Association and offers women an alternative to swallowing large pills—adding a packet to water creates a refreshing sparkling drink that delivers a full-spectrum prenatal multivitamin containing folic acid, iron, choline, vitamin C, vitamin D3, and a full panel of Albion minerals—including Ferrochel® iron, which causes less constipation and gastrointestinal upset than typical iron. Children's Oxylent® is a superior quality multivitamin that is a great-tasting drink kids love that comes in fun stick-packets that kids can mix themselves. All Oxylent multivitamins contain no sugar, GMOs, dairy, gluten, soy, or anything artificial.