Oxylent Prenatal, recommended by the American Pregnancy Association, is a convenient, easy to digest Prenatal Multivitamin daily drink that provides you vitamins, minerals, antioxidants, amino acids and electrolytes.
SUGGESTED USE: One packet per day.
Premium Daily Prenatal Multivitamin
Before, During & After Pregnancy
Effervescence Replaces Pills
No Sugar! Sweetened with Pure Stevia
A Better Form of Iron: Albion® Ferrochel®
Recommended by the American Pregnancy Association
Why Buy Direct? In a word, freshness! Walk into your local vitamin shop, or shopping warehouse, and take a close look at their stock. Chances are you will find some products that may be close to expiration; and, may appear as if they've been sitting on the shelf for awhile! Here at Omega-Direct freshness is priority one! To ensure that you receive only the freshest stock we have taken the following steps:
All orders ship via ultra fast, USPS Priority 2-3 Day Air minimizing the chance of heat related damage. Compare this to UPS Ground which can take up to 7 days.
By selling hundreds of bottles a week new inventory arrives on a daily basis.
All stock is kept in a climate controlled warehouse at a constant 77 degrees.
We use a just-in-time inventory system which ensures that all our stock is no more than two weeks old.
Vitalah takes great care during processing and handling to ensure you receive a product of unparalleled quality and freshness. Why compromise this by ordering older product from a retailer with unknown or questionable handling and storage procedures?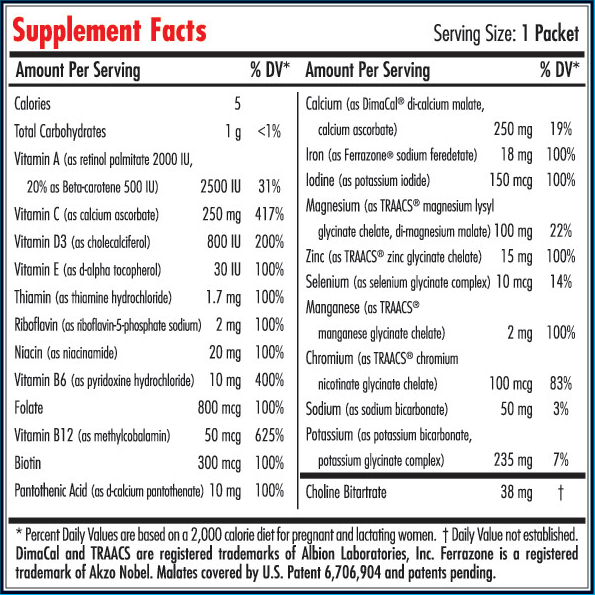 Benefits:
Nourishes: Promotes the health of mom and baby
Supports: Healthy spinal cord development
Balances: Helps reduce nausea
Features:
Superior multivitamin/mineral content, with a full spectrum of essential nutrients
Optimum bioavailability
Science-backed ingredients of superior quality
Ferrochel® form of iron reduces nausea & constipation
No Sugar! Sweetened with pure stevia
No gluten, dairy, soy, caffeine, or anything artificial
Recommended for People who:
Are tired of swallowing pills
Are planning to conceive, pregnant, or nursing
Experience nausea and/or constipation with typical prenatal vitamins
Want an easy and refreshing way to drink more water while pregnant
Oxylent® is an award-winning, 5-in-1 daily multivitamin—all in one refreshing drink. Instead of swallowing pills or tablets, add a packet of Oxylent to water and enjoy a sparkling drink that delivers vitamins, minerals, electrolytes, amino acids, and antioxidants with easy absorption. The unique formula includes 1000 mg vitamin C, 1000 IU vitamin D3, 100% RDI or more of several B vitamins, the amino acids L-Arginine and Lysine, a full panel of superior-quality Albion® minerals including zinc, selenium, iodine, calcium, and magnesium, and the unique ingredient S.O.D. (or superoxide dismutase), which is a powerful antioxidant enzyme that eliminates billions of free radicals. Prenatal Oxylent® is recommended by the American Pregnancy Association and offers women an alternative to swallowing large pills—adding a packet to water creates a refreshing sparkling drink that delivers a full-spectrum prenatal multivitamin containing folic acid, iron, choline, vitamin C, vitamin D3, and a full panel of Albion minerals—including Ferrochel® iron, which causes less constipation and gastrointestinal upset than typical iron. Children's Oxylent® is a superior quality multivitamin that is a great-tasting drink kids love that comes in fun stick-packets that kids can mix themselves. All Oxylent multivitamins contain no sugar, GMOs, dairy, gluten, soy, or anything artificial.