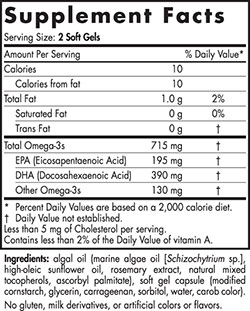 Nordic Naturals Algae Omega is the ideal vegetarian alternative to fish oil. Made from microalgae, it offers a plant-based source of beneficial marine omega-3s EPA and DHA without the use of fish. While most algae oils are short on EPA, Algae Omega's unique combination of EPA and DHA is a pure, safe, and effective source of both of these essential fatty acids.
SUGGESTED USE: Two soft gels, with food, or as directed by your health care professional or pharmacist.
100% vegetarian, suitable for vegans
One of very few algae oils with significant
amounts of EPA
Supports normal vision, heart health, positive mood,
and immunity*
Sustainably sourced
Non-GMO and hexane free
Certified by the America Vegetarian Association
Why Buy Direct? In a word, freshness! Walk into your local vitamin shop, or shopping warehouse, and take a close look at their stock. Chances are you will find some products that may be close to expiration; and, may appear as if they've been sitting on the shelf for awhile! Here at Omega-Direct freshness is priority one! To ensure that you receive only the freshest stock we have taken the following steps:
All orders ship via ultra fast, USPS Priority 2-3 Day Air minimizing the chance of heat related damage. Compare this to UPS Ground which can take up to 7 days.
By selling hundreds of bottles a week new inventory arrives on a daily basis.
All stock is kept in a climate controlled warehouse at a constant 77 degrees.
We use a just-in-time inventory system which ensures that all our stock is no more than two weeks old.
Nordic Naturals takes great care during processing and handling to ensure you receive a product of unparalleled quality and freshness. Why compromise this by ordering older product from a retailer with unknown or questionable handling and storage procedures?